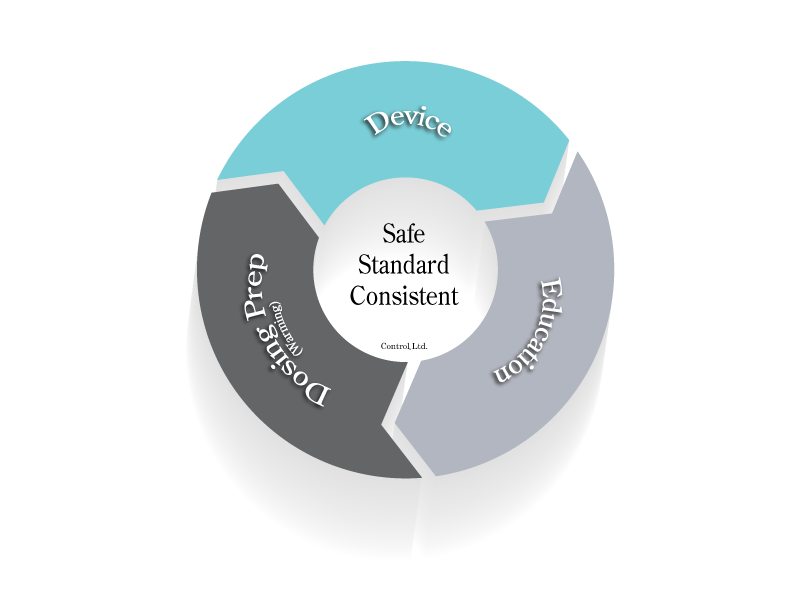 One of the biggest problem consumers face today is: "How to get the best experience out of concentrates?" Whether it's for anxiety, pain, or even just to enjoy a nice walk with the kids, no matter what the condition, we all want the best experience out of concentrates.
Manufacturers have been working tirelessly to give their consumers the best experience, consistently. The current approach to address this problem fails. The current dosing eco-system is unhealthy and doesn't support the consistent and accurate dosing needs of high potency concentrates. These concentrates typically offer the most benefits, but without a proper way to dose, they are limited to just the users who can tolerate its more intense effects.
At Control Ltd., we come to you as healthcare providers and as consumers. This enables us to create products that address not only the needs of the healthcare providers and consumers, but also the needs of the manufacturers as well. 
Phase One: Allowing you to start low and go slow. Whether you are new to concentrates, discovering a new strain, or coming off of a T-break, our phase one device will help you achieve your therapeutic dose, safely and easily.
Phase Two: Once you know, just go. Pre-set dosing is a must for patients and their caregivers alike. Allowing you to safely dose quickly and consistently without the worry of over medicating.
We recognize that both phases are interchangeable because of the rapidly growing concentrate market. No matter where you are in your journey, our devices will give you control.
Consumers must prep their cannabis before they can experience it properly. Whether its flower and rolling, or dabs and heating, preparation is critical, and almost ritualistic for most people to enjoy the experience. Oil concentrates are thick and difficult to dose if not properly warmed before hand. We have created a patent pending warmer to aid you in properly preparing your Oil concentrates. Just follow these 4 easy steps!
1. Place your warming device on the side of your mug. Fill your mug with a hot beverage of your choice.
2. Insert your Oil concentrates into the warmer on the side of your mug.
3. Let sit for 3 mins.
4. Remove your Oil concentrates from the warmer and enjoy!